Darren was sweet enough to take pics with fans while he is in NYC.
This is a cute pic and message.  Love the smiles on the guys' faces:
thelowdownwithmikeyb
Just had a "Glee"-full brunch this
#Saturday
#Morning
in the
#WestVillage
#NYC
.
#darrencriss
#glee
#love
#smile
#happy
#Ootd
#Glee
#Blaine
. I will never wash my IPhone again. LOL
March 25 2017
via dailydarrennews
Nice black and white photo, with nice message.  (Darren look a wee bit sleepy, for some strange reason.
)
# Repost mel_314
Definitely was a pleasure running into this gem outside of Stonewall, such a beautiful soul 
http://ift.tt/2no0mn4
via DarrenCrissArmy
I meant to post this before.   A truly touching message, showing the power of Darren's philosophy to cherish life and to try to live life with positivity. 
Thank you for helping me reach this. @DarrenCriss pic.twitter.com/kVTUnYP4c8

—  Anna   (@annaeriicsson), January 9, 2017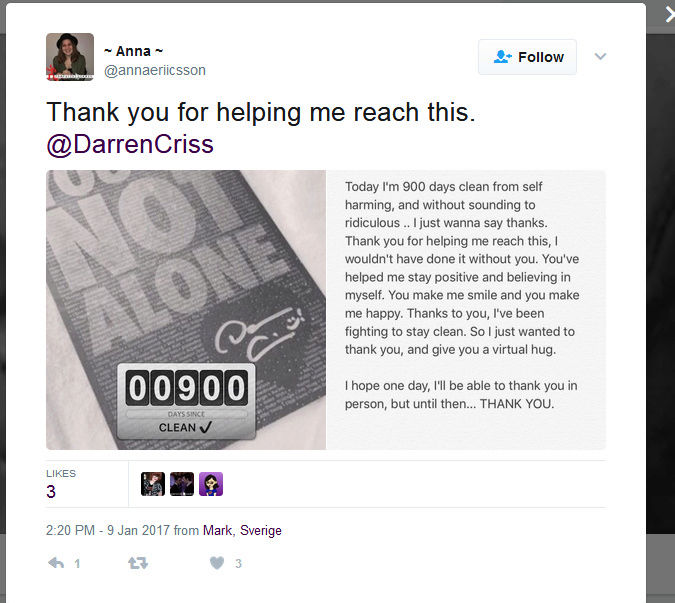 I'm so happy for her, for being so strong and working so hard.   I'm so proud of Darren--he truly is an inspiring person.
A few other nice messages from fans that I meant to post earlier:
jennasaispas_:
I used to wait outside of this building for this one & now, as he said, "I'M IN THE BUILDING!" Life is pretty cool sometimes Incredibly proud of Darren and Chuck for Computer Games.. You guys are the best
kay0fsunshine:
My Gleeful cheeks can't hide it. What better way to start your day than meeting @darrencriss on the subway!! So nice getting to chat with you! 
#DayMade
.